Current vacancies
Thank you for your interest in working at Waddesdon. See availability and full details for our permanent roles, internships and volunteer positions below.
To apply for any of the permanent roles at Waddesdon Manor please submit a CV and covering letter to application@substrakttest2.com unless otherwise stated.
Wine Sales Administration Assistant
Waddesdon is the exclusive importer for the Rothschild wines in the UK. Our wineries include Domaines Barons de Rothschild (Lafite), Baron Philippe de Rothschild SA (Mouton), Baron Edmond de Rothschild, and Champagne Barons de Rothschild. The Rothschild wineries consist of 27 estates across four continents and produce wine in Bordeaux, South of France, Napa, Chile, Argentina, New Zealand and South Africa. The Rothschild family have been producing some of the most sought after wine in the world since the purchase of Mouton in 1853 and Château Lafite in 1868. Waddesdon is a small company based at Waddesdon Manor, the Rothschild country estate in Buckinghamshire, with offices in Spencer House and St James's in London.
The Wine Sales Administration Assistant will join the team at Waddesdon Wines responsible for the sales of Rothschild wines, both to the public and to trade. The Administration Assistant will provide administrative back-up to both the Wine Sales Commercial Administrator and Purchasing & Logistics executive.
Wine Sales Administration Assistant role profile>
Closing date: 11pm, Thursday 18 April 2019
Interviews: w/c 29 April 2019
Special Events Manager - Fixed Term Contract
Rothschild Waddesdon Ltd is the trading arm of the Rothschild Foundation, the charitable trust that contributes to the upkeep of Waddesdon Manor. The trading company is comprised of four businesses; Catering, the Five Arrows Hotel, the Gift and Wine Shops and Private Events. We are looking for a person with 2 to 3 years experience of running events in a high calibre venue. Experience in managing and working with a wide range of event suppliers, and awareness of current market trends in hospitality and knowledge of relevant suppliers also necessary. You will work closely with the Hospitality General Manager.
Special Events Manager, fixed term contract role profile PDF>
Start date: 29 April to 28 February 2020
Marketing Executive (RWL trading company)
The role of Marketing Executive for Rothschild Waddesdon Limited focuses on all aspects of traditional and digital marketing activity, both B2B and B2C, in support of our trading company's activities. The successful candidate will develop and implement creative marketing campaigns to promote and increase sales for The Five Arrows Hotel and its expansion plans; Weddings at Waddesdon; Wine at Waddesdon (wine sales on site, online and wine related events); afternoon teas and special events in Waddesdon's Manor Restaurant; and public events, usually with a food focus, like the Artisan Food Markets, Chilli Fest, Summer Fest and the Christmas Fair. S/he will be expected to be confident presenting ideas and campaign plans and will work closely with the Hotel and Events General Manager, Catering Operations Manager, Retail Buyer and Business Development Manager, Head of Travel Trade, Tourism & Film, and Head of Marketing & Communications to ensure an integrated marketing plan for the trading company that complements Waddesdon's overall marketing strategy.
Deadline for applications: 9am Tuesday 23 April 2019
First interviews: Friday 3 May
Second interviews: Friday 17 May
Assistant Catering Supervisor
The Assistant Catering Supervisor is responsible for assisting in the implementation of all aspects of food policy in the Stables Café, Takeaway Bar, Treaterie, Coffee Bar, Summer House and seasonal pop-up concepts. You will be involved in the management and day to day running of these catering outlets, working closely with the Stables & Food to Go Supervisor, Staff Manager and Catering Operations Manager.
Assistant Catering Supervisor role profile>
Closing date: Friday 5 April 2019
Interview date: Friday 12 April 2019
Weekend Housekeeping Supervisor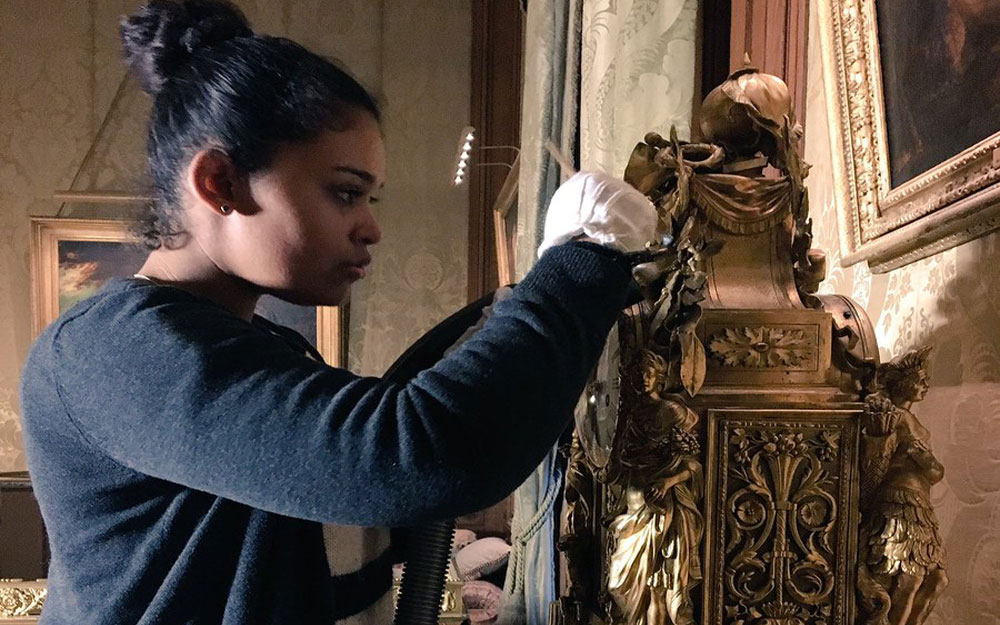 Internships
Our next internship programme will run from July to December 2019. See full role profiles for each vacancy. Application details will be available in early summer.
Volunteers at Waddesdon
At Waddesdon we have around 300 wonderful volunteers and appreciate their invaluable support. Why not consider becoming one of them.